South Loop School hosts announcement of CPS cuts
Details

Published on Wednesday, 01 June 2011 19:00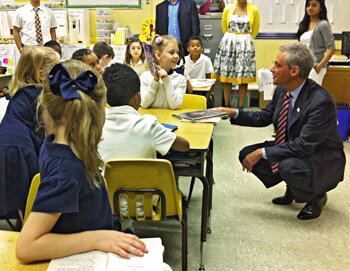 By Ben Meyerson, CHICAGO JOURNAL, JUNE 1, 2011
Click here for original article
Mayor Rahm Emanuel and new schools CEO Jean-Claude Brizard announced cuts to the Chicago Public Schools Thursday morning during a press conference at South Loop School.
Most of the cuts hit at CPS headquarters, slicing positions in the central office and leaving retirees' positions vacant. Other changes don't directly affect the classroom, such as no longer having janitors clean unused space in schools, and cutting the size of the school bus fleet.

The cuts, Emanuel and Brizard said, total about $75 million in savings. The school system still has a $720 million deficit for the coming year, and the state of Illinois owes roughly $300 to CPS, Emanuel said.
"In tackling the CPS budget deficit, we will begin by cutting bureaucracy so that we can focus our resources on supporting students and teachers," Emanuel said in a statement.
Afterward, Emanuel and Brizard visited a classroom and greeted South Loop School students individually before leaving.