Kindergarten - 8th Grade, Neighborhood Enrollment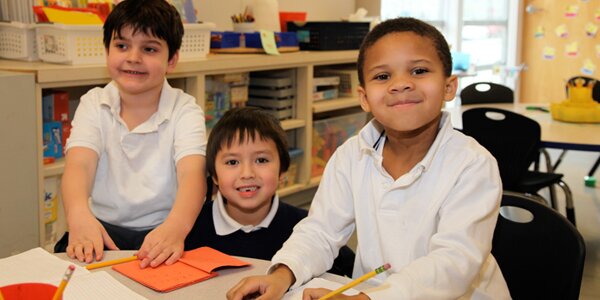 The neighborhood program at South Loop Elementary School offers children who live within the boundaries of the school an opportunity to attend one of the top elementary schools in the Chicago Public Schools system. Approximately 60% of our students reside within the neighborhood, and the success of this program continues to be the backbone of the schools success over the past 10 years.
Our Neighborhood Program is attractive to the families who live within the South Loop area because not only can they be assured that their child will have a great academic experience, but attending school within the neighborhood allows children to walk to school, and build social ties to other students in the community. The pastoral neighborhood of the school, located adjacent to Mary Richardson Jones Park, allows children to connect their social life in the neighborhood with the school. The end result is a small town school experience in an urban setting.
Our parents love the easy access between work, home and school. Students do not have to waste time in long commutes to and from school. The close proximity of the school to home and to work affords busy parents the ability to participate in school assemblies, extra-curricular activities, and volunteer activities. This in turn involves them in their child's education, and studies have shown that the children of parents who are involved in their education perform better.
Subscribe to our Prospective Student Mailing List
Registration Information
Early registration is recommended so the administration can adequately plan for teacher assignments
South Loop School Preschool students whose families reside within the school's residential boundaries and choose to send their children to South Loop School for kindergarten will work directly with Ms. McNab and Ms. Wilson (Clerk) at the Branch Building on their child's kindergarten registration and enrollment
Incoming kindergarten siblings of out of boundary students may be considered for acceptance but must have submitted an application through the CPS Office of Access and Enrollment. If space is not available in the kindergarten classes for all that apply, a computerized sibling lottery will take place--most likely after the first day of the school year.
Copies of updated medical, eye and dental exams must be provided during registration or as soon as they are available to you.
Eligibility
Enrollment is for NEW students only
South Loop Preschool students do not need to enroll for Kindergarten
South Loop Kindergarten students do not need to enroll for 1st grade
Student and his/her legal guardian must reside within the school neighborhood
Where to Register
Registration is at the Main Office ONLY

1212 South Plymouth Court 
8:00am – 4:00pm
Monday thru Friday, except public holidays
Proof of Residency Documentation Required
Applicants must show all of the following as a proof of residency:
Illinois Driver's License or State I.D.
Original Lease/Mortgage
Two original utility bills (gas, electric, water – not cell phone)
(or) One original utility bill and original voter's registration form
Bank Statement

Proof of Age (Kindergaren enrollees must be 5 on or before September 1, 2014)

Child's original birth certificate
Child's baptismal record
Passport
Court Documents
Required Forms
Student Medical Information Form