South Loop School got talent
By Bonnie McGrath, Chicago Journal, June 8, 2012
CLICK HERE TO VIEW THE ORIGINAL ARTICLE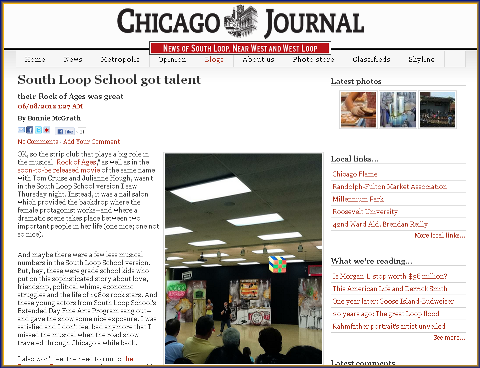 OK, so the strip club that plays a big role in the musical "Rock of Ages," as well as in the soon-to-be released movie of the same name with Tom Cruise and Julianne Hough, wasn't in the South Loop School version I saw Thursday night. Instead, it was a nail salon which provided the backdrop where the female protagonist works--and where a dramatic scene takes place between two important people in her life (one nice; one not so nice).
And maybe there were a few less musical numbers in the South Loop School version. But, hey, these were grade school kids who put on this sophisticated story about love, friendship, political whims, economic struggles and the life of 1980s rock stars. And these young actors from South Loop School's Extended Day Fine Arts Program sang out--and gave the show some nice exposure. I was satisfied and I don't feel bad anymore that I missed the musical when the road show traveled through Chicago a while back.
I also won't feel the need to run to the Roosevelt Icon in the near future to hear "We Built This City" or "Any Way You Want It" (a song I liked until State Farm totally corrupted it by using it in its currently running TV commercial)--because I was quite satisfied with the South Loop School production of "Rock of Ages" with the songs (made famous by everyone from Bon Jovi to Twisted Sister) that put it on the map.
My friend Kathy Smith invited me, whose son Austin was cast in the starring role of Lonnie, the narrator, an emblematic character who sort of mixes into the action a bit more than a narrator should. Austin played the role with great energy and great humor and great comic timing, and he wore a black mullet. Kathy pointed out emphatically that we would be seeing a "clean" version on Thursday--not the racy Tony-nominated version that played on Broadway; or the motion picture that hasn't opened yet, about which reports are circulating that some scenes were so racy they had to be removed.
In any case, South Loop students deserve a hearty congratulations for entertaining a big audience at the school at Plymouth and Roosevelt, those who came to see a hit show. The bottom line: they saw one.