1st-grader gives thumbs up to push for longer school day and year
Details

Published on Thursday, 02 June 2011 19:00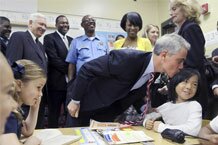 By Fran Spielman, City Hall Reporter, JUNE 2, 2011
Click here for original article
With temperatures rising and summer vacation fast approaching, you'd think the last thing that a kid would want to talk about is a longer school day and school year.
During a classroom visit Thursday at South Loop Elementary School, 1212 S. Plymouth Court, a first-grader asked Mayor Rahm Emanuel about his push for both, as if he just can't wait to spend more time in school. "We can have more artistic programs — painting or dance or things like that. Is that a thumbs-up, too?"
The little boy, Parker Rasmussen, replied, "Yeah," and gave the mayor the thumbs-up sign.
Emanuel scored a victory during the Illinois General Assembly's just-completed spring session on his No. 1 legislative priority: an education reform bill that paves the way for a longer school day and school year and makes it easier to get rid of tenured teachers and more difficult for them to go on strike.
On Thursday, the new mayor seemed genuinely surprised that the little boy not only knew about it, but welcomed more time in school.
"I'm glad you know about the longer school day. ... Would you give a thumbs-up to a longer school day? How 'bout a little longer school year? Okay, we've got two thumbs up? And some more math and science? That's a double thumbs-up," he said.
Minutes before, the student seated next to Rasmussen had proudly informed the mayor that Thursday was her birthday.
That prompted Emanuel to say, "How 'bout some extra birthdays because, if you have a longer school year, you catch some extra birthdays'' — which means more birthday parties at school.
The birthday question drew the most enthusiastic reaction and giggles from the kids. Afterwards, Emanuel played a round of thumb war with the first student. He either let Rasmussen win or lost fair and square because of a Band-Aid on his thumb.
"I got you!" he told the mayor.