Common Threads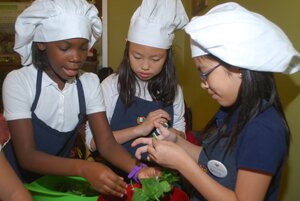 In partnership with Common Threads, South Loop Elementary Students are learning to connect with their bodies, their neighbors, and their world in bite-sized lessons. Common Threads is a hands-on cooking program that educates children about the importance of nutrition and physical well-being, and to foster an appreciation of cultural diversity through cooking.

Children embark on a world adventure as they prepare nutritious meals rooted in diverse cultural heritages. By using the power of food to show how much we have in common with our neighbors, Common Threads teaches children that we are more similar than different. Through the program children have the opportunity to cook and eat a variety of foods while learning proper cooking techniques.
Learn more about Common Threads.